Chris and I were in Baton Rouge recently when I found this photo of PD (Chris' dad):
At first, I thought this was a photo of Chris!
See the resemblance?
And here's the most recent photo of our little guy:
Hello cheeks!
It won't be too long before we'll see how BH fits into the family resemblance photos!
Want to share some photos from your past? It's easy!
Step One: grab a button and to put on your WBW post (that will send readers here):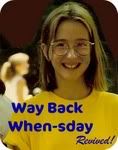 Step Two: fill out this easy form and a link will pop up here to send readers to YOUR WBW story!