Last I checked, Bradley was 8lbs 3 oz. It's hard to believe that he'll one day grow up to become a man.
But... I suppose it's inevitable.
Here's my cousin, Adam, at around Bradley's age:
That's me holding him with some awesome bangs.
Here's his mom, my Aunt:
And my mom, his aunt!
Being such a little baby, it was hard to imagine him growing up to become a man.
(With his sister, my cousin, Laurel:)
But he did! Here is that same tiny little boy... all grown up at 6ft, 7in!!
(With his girlfriend, Harley:)
It's fine with me, though, if Bradley takes his time getting there... we're enjoying his little toes, tiny sighs and sweet cuddles for now!
Want to share some Way Back When-sday photos from your past?
Step One: grab a button and to put on your WBW post (that will send readers here):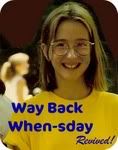 Step Two: fill out this easy form and a link will pop up here to send readers to YOUR WBW story!