The past two Way Back When-sdays I documented Bradley's birth. He was born at Women's Hospital, which is also where I was born! I found some photos of that day...
Here's my mom getting gassed up for the c-section:
I asked for some of the gas mask (due to my self-diagnosed pain intolerance) but I guess they don't do that anymore.
Pretty soon I was born and my parents took a similar photo that Chris and I took 5 weeks ago:
And just like Bradley, I got my footprints documented:
Later, I was weighed (by someone with
awesome
hair):
And for some reason put into this cooker:
I adore this photo of my mom and I:
When it was time to leave, it appears as though my mom was wheeled out by a thirteen-year-old volunteer.
And look at all those plants!
Want to share a Way Back When-sday story from your past? It's easy!
Step One: grab a button and to put on your WBW post (that will send readers here):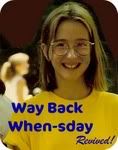 Step Two: fill out this easy form and a link will pop up here to send readers to YOUR WBW story!