It's Graduation time for many students across the country. So for today's Way Back Whens-day, I thought I'd post some photos of Chris at two very important graduations:
Kindergarten and...
College!
Check out that curly red hair in the first photo... yikes!
Want to share some embarrassing photos from your past? It's easy!
Step One: grab a button and to put on your WBW post (that will send readers here):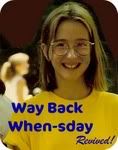 Step Two: fill out this easy form and a link will pop up here to send readers to YOUR WBW story!