Since I've been chronicling our Day on the Bay this week, I thought I'd share some way back photos of Chris and I on boats!
Here's Jojo, Chris' Mom and Chris:
It sure looks like Jojo's having a lot more fun than Chris!
And here I am around the same time:
Legs-y McGee! I must have just gone through a growth spurt!
Want to share a fun photo from your past?
Step One: grab a button and to put on your WBW post (that will send readers here):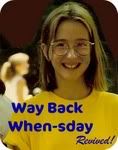 Step Two: fill out this easy form and a link will pop up here to send readers to YOUR WBW story!