For the 2008 Olympic Opening Ceremonies, my parents invited my brother's family (who were living in Houston at the time), Chris and me (who were dating at the time) to watch.
Little did I know, I'd be getting engaged the very next day!
Four years later, my mom invited some of her Camping Pals over to watch the Opening Ceremonies and Chris and I made an appearance... it was a little different than the last time!
Here's a better view of the bump:
Next Summer Opening Games we'll have a
four year old boy
. That's a scary thought!
Want to share some Way Back When-sday photos from your past? (Bonus if they are Olympics related!)
Step One: grab a button and to put on your WBW post (that will send readers here):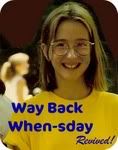 Step Two: fill out this easy form and a link will pop up here to send readers to YOUR WBW story!