Way Back When-sday is back!
It's been three weeks since Bradley Danger was born. I can't believe it! It's so cliche, but true: our lives are changed. Big time.
But today let's go "Way Back" to before baby...
A few weeks before Bradley was born, Chris and I took a "how to take care of a baby" class at our hospital.
Chris with "not our baby""
Once we aced the class, we thought we were ready for the real thing. Ha! Let me just say it's easier to swaddle a doll than a fussy newborn!!
Chris put some finishing touches on the nursery:
And I completed some last minute projects:
A sign for the front door... and yes, I decorated the bottle of hand sanitizer. Can you tell I was getting antsy??
The weeks preceding our due date I felt like "dead man walking". Everything I did was the "last time before baby". Including our last date before baby:
As you can see I was pretty preggo when we saw the Lion King. So much so that one of the ushers came to me and let me know that they had doctors on the premises... "just in case".
I didn't go into labor at the theater... in fact for a while, it felt like I'd NEVER go into labor. I tried all the tricks:
Spicy Food
Raspberry Tea
Carrot Juice
We even went to brunch at Haven for some Eggs Boudreaux (which is what we called our baby while he was still cooking):
So what finally got this baby out?
A good, old fashioned induction!
The morning we were scheduled I was bumped due to a lack of beds at the hospital (really?!)... so we had ANOTHER day to wait. But finally, on August 15th, we left the house for the last time as a family of two:
While I was in Labor and Delivery, my dad made a cake for his grandson:
PD, Johanna and Maria came into town to meet their new grandson/nephew. PD rushed to the hospital to wait for the baby:
and he brought his famous snack basket:
Meanwhile Maria and Gordon had some playtime at the house:
It wasn't too long (5.5 hours of labor) before Bradley Danger was born!
Next Way Back Wednesday I'll share part two of Bradley's birth day.
Want to share some Way Back When-sday photos of your own? It's easy!
Step One: grab a button and to put on your WBW post (that will send readers here):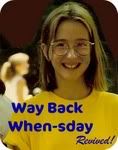 Step Two: fill out this easy form and a link will pop up here to send readers to YOUR WBW story!