In honor of yesterday's rainstorm, I have some rainy day fun for Way Back When-sday.
Here is my brother and I taking a rainy day stroll:
(Notice I'm barefoot... my mom used to call me a "street urchin" because I refused to wear shoes.)
And here's me. Hanging out in the rain. With a parasol (meant for sun, not rain). In a swimsuit. Either posing or mid-eye roll:
I loved that pink swimsuit!
If you're a blogger, I'd love for you to join in the Way Back When-sday Fun!
Step One: grab a button and to put on your WBW post (that will send readers here):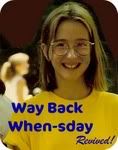 Step Two: fill out this easy form and a link will pop up here to send readers to YOUR WBW story!
And for those that don't have a blog, make sure to click on the links that are posted so you can enjoy even MORE WBW fun! (And sorry if you already know all this... I spent 20 minutes last week trying to explain all this to my mom, so I figured I should spell it out just in case!)