This week I've been talking about housekeeping and nesting so for today's Way Back When's day, I'd like to share an extreme home-makeover that occurred WAY before that was a "thing".
This is the house that my parents purchased when they were newlyweds:
My dad and his handy skills turned that into this:
And eventually this:
He did that while working a full-time job (starting his career at Texaco) and while my mom was pregnant with my brother (and even continued through my brother's newborn years). Sure, the house looks a little "built in the 70's", but it was my home for 18 years.
Even after they did the bulk of construction, my dad always had "little" projects he continued to work on. Projects like adding a "sky walk": a "floating" hallway that went from the second story main house to the second story of the unattached garage (which he turned into a game room). That portion happened after I was born.
Here's a photo showing how my parent's safely wrangled their two young children during this dangerous construction:
That's me hanging out in the middle of the action. Dodging saws and sharp nails, I'm sure.
And here's my brother and I safely posing for a photo:
Right next to a large hole coming out of the house.
It's a miracle I'm still here to tell the tale...
Do you have any stories you want to share for Way Back When-sday? Here's how!
Step One: grab a button and to put on your WBW post (that will send readers here):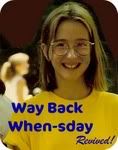 Step Two: fill out this easy form and a link will pop up here to send readers to YOUR WBW story!