Here's a WAY Back When-sday photo of Chris at Olan Mills:
I love how 80's this next one is!
I can't remember if I've shared this next one before... but it totally captures Chris' personality:
He's sweet... but there's some mischief behind that smile!
Want to share a Way Back When-sday photo of your own? Bonus points if you're not even in it-- just embarrassing a loved one!
Step One: grab a button and to put on your WBW post (that will send readers here):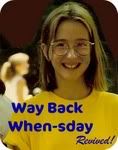 Step Two: fill out this easy form and a link will pop up here to send readers to YOUR WBW story!