Since I've been talking about our Recuperation Vacation at Carillon Beach, I thought today's Way Back When-sday should feature some Beach time from our childhoods.
Here are Chris and Justin building a sand fortress:
And years earlier here they are enjoying the sand and sun:
Meanwhile here I am at the beach... also enjoying the sand!
And marching to and from the coastline:
Yep. Looks like enjoying the beach is just something we're meant to do!
Want to share some photos from your past? It's easy!
Step One: grab a button and to put on your WBW post (that will send readers here):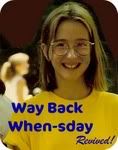 Step Two: fill out this easy form and a link will pop up here to send readers to YOUR WBW story!