Technically I guess this was my second hospital visit, as my first was on my birth day.
As a child, Thanksgiving always meant driving to Brenham, Texas to visit my grandparents and meet up with the cousins on my dad's side. I was the youngest of 6 cousins (by five years) and was often found pouting about... something... anything! Usually the pout had something to do with not being able to do something the big kids were doing.
One Thanksgiving (I think I was seven?) I got my wish and was able to jump on the trampoline with one of my older cousins. I was in Heaven! Until... I landed and somehow sprained my ankle.
So here's a photo of my first (second?) visit to the hospital-- getting my ankle all wrapped up:
Do I sound like an old fogey if I point out the obvious... how old is that doctor?! Twelve??
I'm pretty sure that's what I was thinking at the time as well... look at that face I'm giving him!
Want to share a photo from your past? It's easy!
Step One: grab a button and to put on your WBW post (that will send readers here):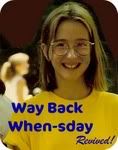 Step Two: fill out this easy form and a link will pop up here to send readers to YOUR WBW story!