For today's Way Back When-sday I'd like to share my favorite pastime: napping.
I can nap almost anytime and almost anywhere.
But it's not just when I was little... I napped a lot as a teenager:
And even as an adult:
Yep. Napping makes me happy:
Want to share some Way Back Photos of YOUR favorite pastime? It's easy!
Step One: grab a button and to put on your WBW post (that will send readers here):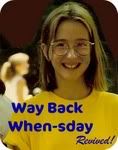 Step Two: fill out this easy form and a link will pop up here to send readers to YOUR WBW story!