My two nieces have showed off their driving skills this week, so I thought it would be fun to include some Way Back Whens-day photos of Chris and I during our early driving days.
Ah, the awkward days of youth. Look at those arms!
Here's another...
Not sure the stories behind these photos, but I'm digging the pained expression. Chris still doesn't enjoy having photos taken.
After
scouring
skimming through our family albums, here's the only photo I could find of me with my first car:
That's me in the red with one of our foreign exchange students, Chie. Not sure why my mom chose a day that it was raining to snag this photo!
Not looking forward to taking a photo of BH with his first car! I'm already nervous about him driving! Perhaps I should get through the birth before I start to really get concerned...
Want to share some photos from your past? It's easy!
Step One: grab a button and to put on your WBW post (that will send readers here):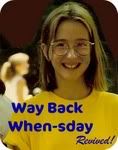 Step Two: fill out this easy form and a link will pop up here to send readers to YOUR WBW story!