Days before I was born, my creative mother found a good spot for her
Coke
Pepsi Can:
Thirty years later, I'm following her lead!
Have some silly photos to share from your past? Link up! It's easy!
Step One: grab a button and to put on your WBW post (that will send readers here):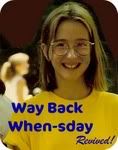 Step Two: fill out this easy form and a link will pop up here to send readers to YOUR WBW story!