My dear pal Adam is moving to New York City to pursue a career as an actor. Although I wish him well, I selfishly think he should just stay put in Houston, thankyouverymuch.
(Taken during a high school mission trip.)
Adam and I have been pals since we were in 6th grade and found seats next to each other in confirmation class. Both of our dads raced sailboats and were racing to Florida that summer. So we found ourselves fast friends as many of the family members traveled to Florida to meet the racers when they arrived.
That's where the first photo was taken of this (now safe to say) life-long friendship started.
I secretly hope Adam gets super famous so I can send that photo into E! for their True Hollywood Story...
Here's another delightful (or delightfully awkward?) photo of us in middle school:
It was actually hard to find photos of just Adam and I as we had a third partner in crime, Billy:
(pictured here around age 15 when Billy and I had our braces off... Adam loves to tell everyone how he never needed braces. Bravo, Adam!)
Through the years even our families became close and in high school we went on many family vacations together. Like this one to New Mexico for a ski trip:
(Pictured with Kristin and Morgan-- more partners in crime and life-long friends.)
Although we were always "just friends", Adam was my prom date. Here we are with Billy before the big dance:
I adored that dress... it had pockets!
So I wish Adam much success in NYC-- and not only because I'd love to have an actor pal up there so we can rule the city, like on Entourage-- but also because Adam's a good guy with a lot of talent and charisma. So long, friend-- and break a leg!
Have a Way Back When-sday story that you'd like to share?
Step One: grab a button and to put on your WBW post (that will send readers here):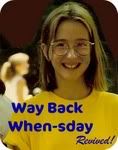 Step Two: fill out this easy form and a link will pop up here to send readers to YOUR WBW story!