My dad used to jump out of airplanes. Often.
I don't know all the details (unit, correct army terms... was it even "army"?) but I have these awesome photos of my dad: America's hero:
Getting into the chopper:
Jumping out (view from the ground):
Jumping out (view from the sky):
I think this is my dad, taking a photo of his parachute
while he's falling from the sky
(always safety first, that one):
And lastly, "Dude, I think I dropped my camera over here, help me find it":
Want to join in the Way Back Whens-day fun and share some photos from your past? It's easy!
Step One: grab a button and to put on your WBW post (that will send readers here):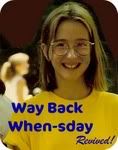 Step Two: fill out this easy form and a link will pop up here to send readers to YOUR WBW story!